All our inclusive and special services at a glance
¾ nature gourmet board for health-conscious gourmets
Rich breakfast buffet with freshly prepared egg dishes, waffles and omelettes, freshly cut fruit, Bircher muesli, quinoa muesli, porridge, fresh fruit and vegetables juices, rich selection of organic bread from the local Gasser bakery, spreads, home-made jams, regional meat and cheese selection, and many organic products.
Afternoon snack from 3 p.m. to 5 p.m.: light soups, home-made pastries or fresh omelettes
In the Naturellness®Spa you'll find fresh fruit, dried fruit, and South Tyrolean teas
5-course dinner menu in the evening with selected salads, various fish and meat deals, vegetarian alternatives, and home-made bread. There is also always something for vegetarians, vegans, or people with food intolerances (if required, we can put together a separate menu). In addition, we are happy to serve selected wines from South Tyrol and other wine-growing regions.
In the Alma and Lusina nature residences the board type can be chosen individually (no board, B&B with afternoon meals, ¾ nature gourmet board)
At a fee: weekly wine tasting in our wine cellar with sommelier (€18.00 per person)
Use of the water worlds and saunas in the LüsnerBadl and in the WaldbadPromenade with indoor and outdoor saunas, as well as use of the Terra bath house (private spa in the Quarzit bath house at a fee)
Three times per weekly body & spirit lessons, e.g.Qigong, Hatha Yoga, Vinyasa Flow Yoga, Meridian stretching exercises, back gymnastics etc. (Additional yoga classes for a small extra charge).
Round-the-clock use of the gym and weight room with cardio, strength, and traction equipment by Technogym
Wellness bag with cuddly bathrobe as well as sauna and pool towels in your room. Please bring your own bath slippers, as we would love to reduce unnecessary plastic waste.
At a fee: all wellness facilities in the Quarzit bath house (€39.00 per person and day) as well as special Naturellness®Rituals (from €18.00)
10 guided theme hikes per week with specialised hiking guides (herb hikes, summit or lake hikes, natural history hikes, cultural hikes, challenging summit ascents, all partly with picnic or stop for a bite to eat)
The guide, equipment and transfer for the winter snowshoe hiking tours with our hiking guides are charged with 17,00 € per person (12,00 € without equipment).
Sunday hike to the mountain masses and alpine festivals around Lüsen
Rental of hiking equipment (poles and backpack)
Shoe room for storing, cleaning, washing, drying of hiking boots
Special hiking map of Lüsen for planning your individual tours
Hiking map of the surroundings and hiking app for download (Lüsen App)
Various hiking books in the hiking corner as well specialist literature on health and exercise
Hiking advice from our hiking guides and your host Franz
At a fee: For hikes with transfer to the Dolomites and the summit hike in the Puez Geisler Nature Park, each with picnic, we charge €18.00 per person (taxi ride included)
At a fee: For the taxi transfer to the starting point of individual hikes within the Lüsen valley we charge €5.00 to €20.00 per person
Guide mountain bike tours with guide Manni on the Lüsner Alm and in the nearby Puez-Geisler Nature Park
Free rental of standard mountain bikes
At a fee: Rental of modern mountain bikes (€15.00 per day) and e-mountain bikes (€35.00 per day) as well as fully e-mountainbikes (45,00 € per day)
Daily guided snowshoe hikes of various degrees of difficulty (approx. 11 per week, partly with picnic)
Free ski bus from Lüsen to the Plose ski area
Free rental of modern toboggans
Rental of snowshoes
Seven times per week body & spirit lessons as well as fitness lessons, e.g. Hatha Yoga, Vinyasa Flow Yoga, Qigong, meditative back gymnastics.
Entertainment stage Lüsnerhof with musical performances by the host family
Welcome aperitif with presentation of the weekly programme
Garden parties, film evenings on the topics landscape and customs
Campfire arena: a touch of adventure wafts around the campfire in the summer months at late hours when country music is sung and played together
Fun curling tournaments with mulled wine party at the frozen pond in winter
For children and teenagers
Children's playroom with climbing wall, slide, hockey table and table football. Sometimes 9-year-old David, the son of your hosts, joins the fun.
On-site cinema with giant screen
Outdoor area with pool, paddling pool, and family whirlpool (in summer, separated from the adult and nude area)
Daily exciting alpine hikes or snowshoe hikes for the whole family
Free entry to the Lüsen nature pond with giant slide
Adventure stream and natural playground at the edge of the forest with campfire arena above the hotel
Free parking spaces and underground garage
Free Wi-Fi (From midnight to 7 a.m. we switch off the Wi-Fi in the rooms to keep the exposure to electromagnetic radiation as low as possible and to promote a healthy sleep.)
Hotel's own "s'Ladele" shop
New: Rent our new Fiat 500 Cabrio from €50.00 per day.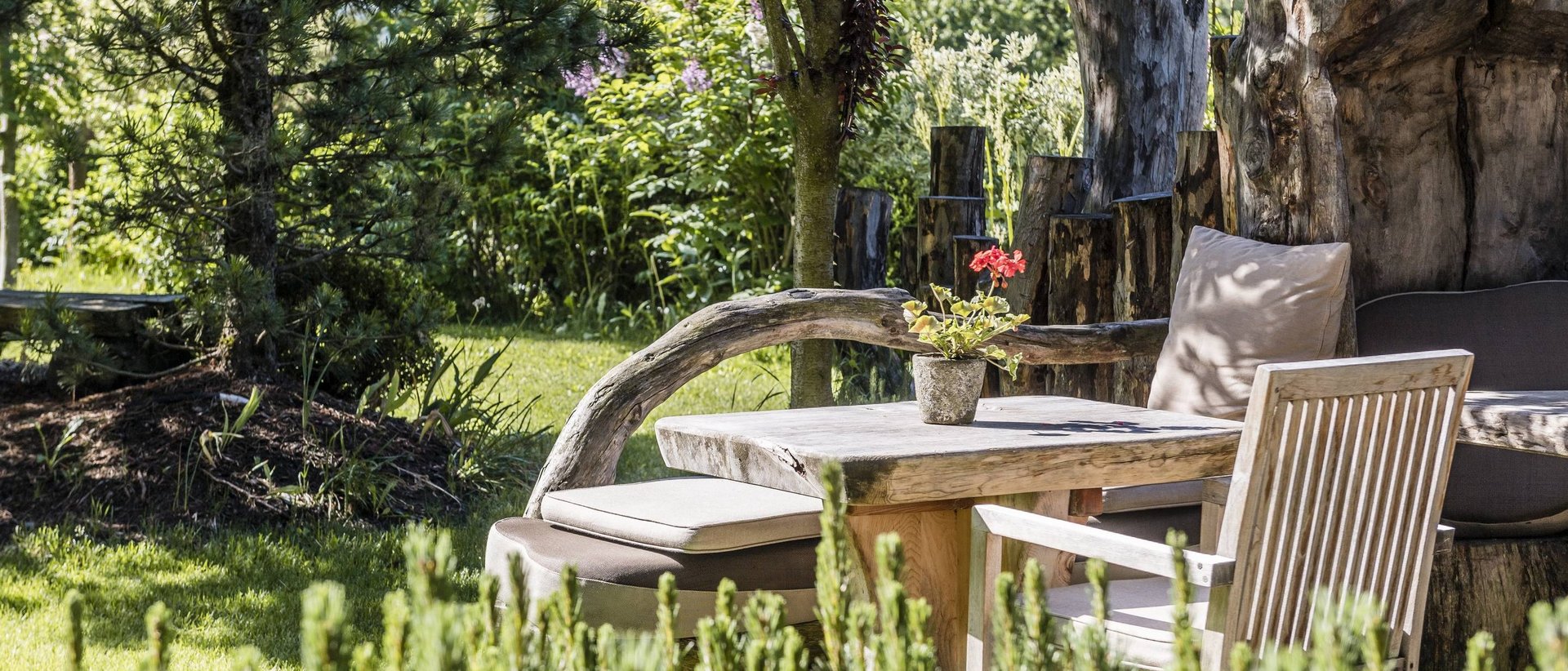 An all-round harmonious time