In a society that gallops wildly after it, time is a precious luxury. But having time does not mean living in time, being in time, being in the moment. For it is precisely in experiencing the moment that the preciousness of time becomes accessible to us humans: when everything seems to stand still, when everything that is around us is good, when worries, but also wishes, needs and goals of the restless world of thought are silent.
Time stands still in our hotel in the Dolomites when we are in direct contact with nature: Kneipping in the torrent after a session in the brook sauna, waking up a deep sleep with the marmots in the nature suites after, the 360-degree panoramic view from the 2,900-metre high Sass de Putia/Peitlerkofl in the Puez Geisler Nature Park, the scent of arnica, in the sauna or forest pool promenade ...
Moments like these have a lasting effect – for months, for years, often for a whole lifetime. Time becomes eternity. Naturellness®Time.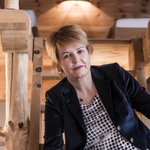 Drink the fresh, cold alpine spring water, smell and experience the coniferous trees along the forest pool promenade, feel the healthy energy in the rooms, enjoy the panorama sauna and enjoy the moment!
Facets of Naturellness®Time
A 360° panoramic view from the almost 2,900m high Sass de Putia/Peitlerkofl to the Dolomites, the main ridge of the Alps and the South Tyrolean low mountain range, a cheerful get-together at a hut on the Lüsner Alm, the scent of arnica, pampering moments in the sauna and forest pool promenade, a happy awakening after a restful sleep in the nature suites, Kneipp treatments in the torrent after the brook sauna – all this is Naturellness®Time. These kinds of moments have a lasting effect, months, years, often a whole life long.