Natural energy from nature
Sun and water, wood and wood chips
In line with our sustainable Naturellness®Philosophy, it is a matter for us at Lüsnerhof to supply the hotel with sustainable energy. For several decades now, sun and water, wood and wood chips from the alpine mountain landscape have been providing heat and electricity for our hotel in the Dolomites: our photovoltaic system and the hydroelectric power plant fed by the Kaser and Lasankenbach streams generate electricity, the wood chips from the direct surroundings and partly from our own forest as well as the wood-burning stoves in rooms and relaxation areas supply the Lüsnerhof with healthy heat and make a great contribution to the comfortable living experience of our guests.
For our grandchildren's future
In addition to drawing up a balance sheet for the common good, we deliberately do not want to expand our nature hotel any further. A respectful approach to the environment today is also the vision for the next century – and for the future of our grandchildren and great-grandchildren.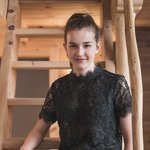 It's fulfilling and it makes sense to do something today that will stay with us tomorrow. To make sure that life in Lüsen will be as beautiful in 40 years and in 100 years as it is today.
Energy and building biology at the Lüsnerhof